Implications of the riots for community organising
12 Sep 2011
part of the Locality roundtable series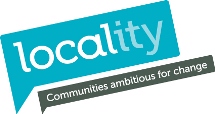 This live broadcast roundtable event discussed the range of implications and connections between the recent riots and the Community Organiser programme.
Locality has identified that their response needs to be immediate, meanwhile and for the long term. The discussion includes questions about the role of community organisers in preventing further violence, in providing immediate succour to those affected, in supporting businesses and residents to utilise meanwhile resources and in the long-term rebuilding of communities and local economies.
The Locality Learning & Evaluation Adviser said:
"Leaving aside the 'sheer criminal elements and opportunistic thieving', insofar as this reflects or reveals pent-up frustration, a sense of hopelessness in the future and not being listened to or having a voice, the CO programme is crucial to finding a positive way forward – helping local communities analyse their situations and build local power to make change happen. The community clear-up responses, and the demonstrations of pride and concern in local neighbourhoods, demonstrate how much potential there is to tap into. In an odd way, the riots provide a huge incentive for people to engage with the CO process based on the need to listen and understand more deeply and to find solutions from within as well as from outside local communities."